How confident are you that you'll get more clients next month?
(Really? Are you sure?)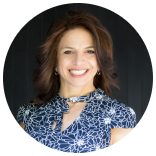 Hi, I'm Helen Mitas, the World's #1 Hypnosis Business Coach.
There's a game I like to play when I'm delivering a keynote presentation to hypnotherapists. I ask them a question:
"Hands up everyone who learned how to grow a business in their hypnotherapy course."
Want to guess how many hands I see?
Yep. Zero.
When I graduated top of my hypnotherapy class in 2009, I could feel I was on the road to success. I was planning on the first month being a bit quiet, while I found my feet. And I was right. But what I didn't foresee was how quiet the next few months were to be. And the next few.
I thought the problem was too much competition: what I needed to do was become a better practitioner, with more advanced techniques that would set me apart from the pack. So I did a fantastic course. And another. And another… but they didn't change my income situation at all.
Slightly rattled by this time, I clicked on a Facebook ad by someone promising to 'skyrocket my business'. I hired him. He did not skyrocket my business. So I hired a dearer guy. Still my business remained firmly land based, and by now I was thousands out of pocket.
Next I tried a few of those Facebook ads for myself. I spent several hundred more on a campaign that drew a few leads, but not one came back after their free session.
Remember, I graduated top of my class, so I was supposed to know what I was doing!
I was frustrated, tired and running out of money. But there was no way I was going back to my crappy project management job, no matter how well it paid. Over the next several months I tried every marketing and sales technique known to man. I tweaked my pricing, I tweaked my programs. I tried, failed, tried and failed.
90% of it didn't work. But you know what? 10% did. So I threw out what didn't work and went looking for the next technique, the next strategy. And slowly and painstakingly, my business started to take off. But I didn't stop. I kept looking for strategies. I kept learning, applying, screwing up, throwing ideas away until my business reached a tipping point.
I had arrived at a formula. And things started to flow.